One step in the door, and you are in little Romania.
Owner Melinda, wants everyone in Nagoya to know about her home town Transylvania, so she imported a little one from Romania, sure enough, one step in the door and you right where she wants you to be, in her home, little Transylvania
Come enjoy our Authentic Romanian cuisine, with a whole variety of dishes from the owner`s Granma`s recipes, one of which the sacred rolled cabbage SARMALE you have to first try, to go with any of our collection of Romanian wines.
Sarmale restaurant features several events a month, including the Romanian Gypsy dance, Romanian quiz nights, and small Romanian festivals.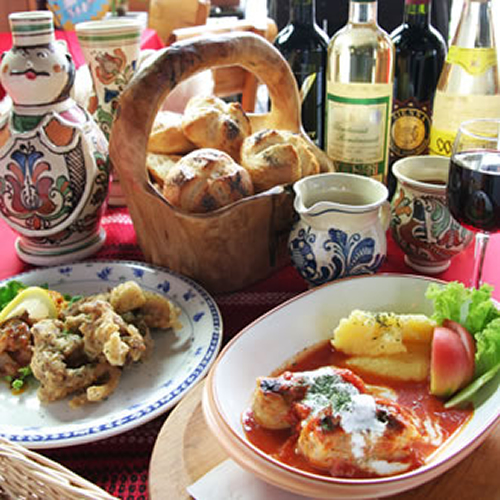 A Sample of Menu Items and Prices
*Tax included
Go to Google Maps and Get Directions
Station & Directions
subway Shinsakae-machi Stn. 2 min
subway Kurumamichi Stn. 5 min
subway Chikusa Stn. 6 min
JR Chikusa Stn. 6 min
The restaurant is located on the north side of Nishiki Street. (100m from Shinsakae Station on the Higashiyama subway line, exit #2. Cross Nishiki Street, head to Chikusa station and you will find the restaurant on the left side of the road.)
Romanian Restaurant Sarmale
Address
1-16-28 Aoi, Higashi-ku, Nagoya 461-0004
TEL
052-935-8877
Station & Directions

subway Shinsakae-machi Stn. 2 min
subway Kurumamichi Stn. 5 min
subway Chikusa Stn. 6 min
JR Chikusa Stn. 6 min

The restaurant is located on the north side of Nishiki Street. (100m from Shinsakae Station on the Higashiyama subway line, exit #2. Cross Nishiki Street, head to Chikusa station and you will find the restaurant on the left side of the road.)

Holidays
Monday
Business Hours
Sat&Sun 11:30am-3:00pm(2:00 last order)
5:30pm-11:00pm(10:30 last order)
Budget
3,000-4,000yen
Seats
Total 50 counter 0, table 50, zashiki 0
Seating Types
Counter, Table, Outdoor
Smoking Policy
No smoking
Reservation
Available
Party Capacity
Up to 100 people Standing/ Private Party Accepted
Parking Space
N/A
Credit Card
Accepted
English Service
Staff/Yes Menu/Yes
Official Website
Other Information
*We have 10 seats on the terrace. You can bring your pet with you.
*For more informations about the restaurant's menu or events please visit our official site.
日本語ページ
Romanian Restaurant Sarmaleの日本語ページはこちら
Last update
2016/1/12
Call for Reservation at Romanian Restaurant Sarmale
052-935-8877