Jean-Luc Ravion moved to Hakodate in Hokkaido at the age of 25, and since then has devoted himself to recreating the authentic taste of the hams, sausages and pate of France, his homeland. At La Marmite, Jean-Luc, who is a member of the prestigious Culinary Academy of France, offers you his home-made ham and sausages along with other traditional French food. There is also a collection of reasonably priced wine, mainly from the owner's home: the Loire. Come and enjoy a real French bistro at La Marmite!
"La Marmite" un restaurant français bonne franquette ouvert midi et soir, avec une salle polyvalente pour vos réceptions, banquets, buffets et cocktails.. "La Marmite" et la charcuterie artisanale "Jean-Luc RAVION" vous offre également un service traiteur. Le patron est français.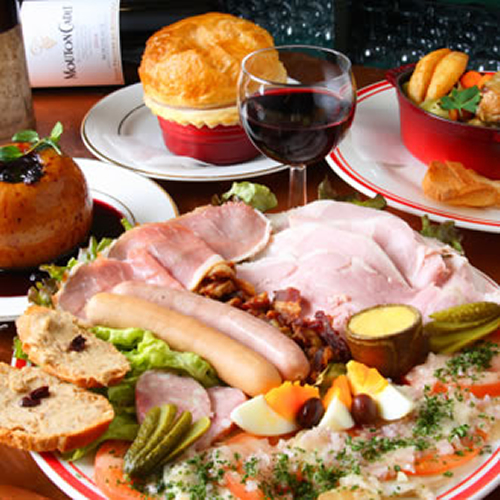 A Sample of Menu Items and Prices
*Tax included
Go to Google Maps and Get Directions
Station & Directions
subway Kurumamichi Stn. 5 min
subway Shinsakae-machi Stn. 8 min
From Kurumamichi station on the Sakura-dori subway line, it's a five minute walk towards Sakae. We're on the North side of Sakura Dori street.
La Marmite
Address
ALA Daikan-cho Bldg. 1F, 40-18 Daikan-cho, Higashi-ku, Nagoya 461-0002
TEL
052-937-7474
Station & Directions

subway Kurumamichi Stn. 5 min
subway Shinsakae-machi Stn. 8 min

From Kurumamichi station on the Sakura-dori subway line, it's a five minute walk towards Sakae. We're on the North side of Sakura Dori street.

Holidays
Monday
Business Hours
Lunch 11:30am-2:00pm
CafeTime 3:00pm-5:00pm
Dinner 6:00pm-10:30pm(L.O.)
Budget
4,000-5,000yen
Seats
Total 40 counter 2, table 38, zashiki 0
Seating Types
Counter, Table, Outdoor
Smoking Policy
Smoking permitted
Reservation
Available
Party Capacity
Up to 70 people Standing/ Private Party Accepted
Parking Space
N/A
Credit Card
Accepted
English Service
Staff/Yes Menu/Yes
Official Website
Other Information
Party & Catering
*You can reserve the whole restaurant for parties of up to 45 people seated, or 70 buffet style.
*We can cater for outside parties.
Please contact us for details.

Enjoy the taste of La Marmite at home!
*Hams and sausages are on sale at the restaurant, and also via our website (Japanese and French only). Why not try the taste of La Marmite at home?
日本語ページ
La Marmiteの日本語ページはこちら
Last update
2016/1/12
Call for Reservation at La Marmite
052-937-7474