Vietnamese food is light taste healthy food prepared with a lot of vegetables like 'Fresh Spring Rolls'. You can enjoy traditional Vietnamese food cooked by a 20 years experienced chef who used to be a vice chief chef at five star hotel in Ho Chi Minh. The first class Vietnamese food that satisfied world class VIP like British Royal Family. If you try this tasty food, You can never forget it. We also have course menu good for parties. Please feel free to make a reservation.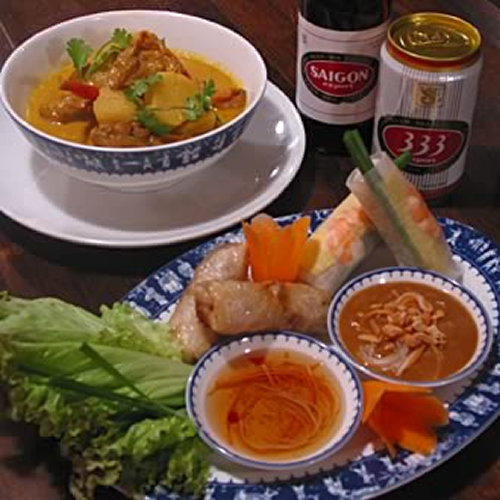 A Sample of Menu Items and Prices
*Tax included
Go to Google Maps and Get Directions
Station & Directions
subway Yagoto Stn. 5 min
Towards Irinaka along Iida street from Yagoto subway station Exit# 4. Pass 20 meters from the 2nd. Signal, in front of Royal Host.
Vietnamese Restaurant Thu an Yagoto
Address
80-18 Hirojicho Aza-ishizaka, Showa-ku, Nagoya 466-0834
TEL
052-836-6701
Station & Directions

subway Yagoto Stn. 5 min

Towards Irinaka along Iida street from Yagoto subway station Exit# 4. Pass 20 meters from the 2nd. Signal, in front of Royal Host.

Holidays
Wednesday
Business Hours
11:30am-2:00pm
6:00pm-11:00pm
Budget
2,000-3,000yen
Seats
Total 50 counter 0, table 50, zashiki 0
Seating Types
Table, Party Room
Smoking Policy
Smoking permitted
Reservation
Available
Party Capacity
Up to 30 people Seated/ Private Party Accepted
Parking Space
Available
Credit Card
Accepted
English Service
Staff/Yes Menu/Yes
日本語ページ
Vietnamese Restaurant Thu an Yagotoの日本語ページはこちら
Last update
2016/1/12
Call for Reservation at Vietnamese Restaurant Thu an Yagoto
052-836-6701