A Casual Wine Café with Gelato and Healthy Deli Food too!
Something new on the bustling young Osu scene – a Gelato and Wine Café! Inheriting the 18 years history in specialist home-made gelato of the former "Obuse", the new owner, who is also a sommelier, has come up with a fresh concept which combines gelato, healthy deli food and wine in a happy marriage for everyone to enjoy.
Using 100% milk which is sent directly from Obuse city in Nagano, the Italian gelato made every day in the restaurant has a richness of flavour that once tasted is never forgotten. Moreover, the sommelier owner has added a line-up of original creations like gelato with liquor, and "geraffles" - a collaboration of gelato and special waffles.
Add to this the chef's delicious hand-made dishes. At lunchtime there is Rice-bowl Lunch or Healthy Curry, in the evening you can try things like set menus with healthy deli, full of vegetables, and authentic German-style sausages with a glass of wine. The sommelier has chosen a range of reasonably priced wines to go along with Obuse's unique food.
Open from lunchtime right through to the evening, and at the weekend or on holidays, here is a perfect place to drop in any time while you're enjoying a stroll through Osu. The friendly staff are looking forward to welcoming you!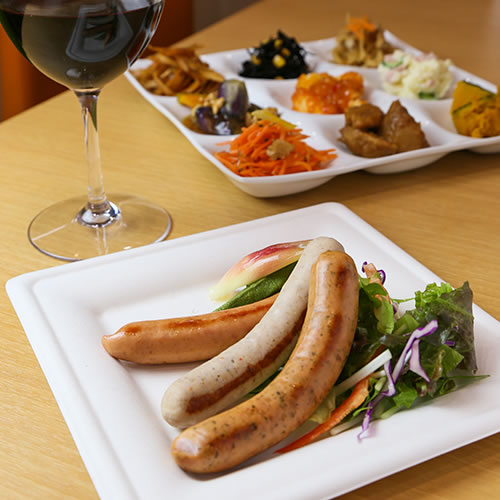 A Sample of Menu Items and Prices
*Tax included
Go to Google Maps and Get Directions
Station & Directions
Subway Kamimaezu Stn. 5 min.
Subway Yaba-cho Stn. 8 min.
Subway Osu Kannon Stn. 5 min.
At the crossing of Uramonzen-cho Dori and Akamon Dori (the "Akamon Dori" traffic lights) turn west into Akamon Dori and it's close to the corner on the south side. From Otsu Dori go west at the "Aka Mon" traffic lights, from Osu Dori go north at the "Uramonzen-Cho" traffic lights pass the Banshoji shopping arcade and turn left at the first traffic lights.
Gelato, Deli & Wine GELATERIA Obuse
Address
3-16-7 Osu, Naka-ku, Nagoya 460-0011
TEL
052-263-3012
Station & Directions

Subway Kamimaezu Stn. 5 min.
Subway Yaba-cho Stn. 8 min.
Subway Osu Kannon Stn. 5 min.

At the crossing of Uramonzen-cho Dori and Akamon Dori (the "Akamon Dori" traffic lights) turn west into Akamon Dori and it's close to the corner on the south side. From Otsu Dori go west at the "Aka Mon" traffic lights, from Osu Dori go north at the "Uramonzen-Cho" traffic lights pass the Banshoji shopping arcade and turn left at the first traffic lights.

Holidays
Closed on Mondays (or Tuesday if Monday is a public holiday)
Business Hours
11:00am-8:00pm(Close at 7:00pm in Winter)
Budget
1,000-2,000yen
Seats
Total 20 counter 0, table 20, zashiki 0
Seating Types
Table
Smoking Policy
No smoking
Reservation
Available
Party Capacity
Up to 20 people Seated/ Private Party Accepted
Parking Space
N/A
Credit Card
Accepted
English Service
Staff/No Menu/No
Other Information
日本語ページ
Gelato, Deli & Wine GELATERIA Obuseの日本語ページはこちら
Last update
2016/1/12
Call for Reservation at Gelato, Deli & Wine GELATERIA Obuse
052-263-3012