Memory Lane is a Jazz bar and restaurant open until the wee hours of the morning. The weekend hours are extended to cater for the live Jazz, Soul and Bossa Nova performances on their fully equipped stage with sound system and projector. Conveniently located very close to Sakae Central Park exit 8B, Memory Lane is also ideal for private parties and events, drinks and Italian style food. The space stands up to 60, or seats 40, and can cater to late parties from midnight to morning.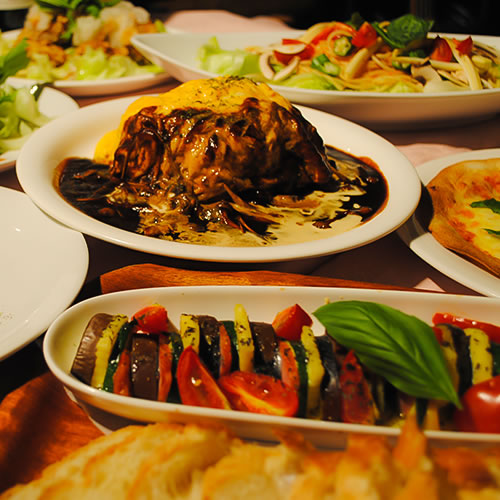 A Sample of Menu Items and Prices
*Tax included
Go to Google Maps and Get Directions
Station & Directions
subway Sakae Stn. 3 min
subway Hisaya-odori Stn. 3 min
Meitetsu Sakaemachi Stn. 3 min
Right at exit 8B from Central Park, it is on the Nagoya station side (West side) of Hisaya-odori, two sets of traffic lights from TV Tower.
Live & Restaurant Bar MEMORY LANE
Address
Tower Bldg. B1F, 3-15-10 Nishiki, Naka-ku, Nagoya 460-0003
TEL
052-971-3577
Station & Directions

subway Sakae Stn. 3 min
subway Hisaya-odori Stn. 3 min
Meitetsu Sakaemachi Stn. 3 min

Right at exit 8B from Central Park, it is on the Nagoya station side (West side) of Hisaya-odori, two sets of traffic lights from TV Tower.

Holidays
Sunday(private party available)
Business Hours
Mon-Thu 6:00pm-4:00am
Fri & Sat 6:00pm-7:00am
Budget
3,000-4,000yen
Seats
Total 33 counter 8, table 25, zashiki 0
Seating Types
Counter, Table
Smoking Policy
Smoking permitted
Reservation
Available
Party Capacity
Up to 60 people Standing/ Private Party Accepted
Parking Space
N/A
Credit Card
Accepted
English Service
Staff/No Menu/Yes
日本語ページ
Live & Restaurant Bar MEMORY LANEの日本語ページはこちら
Last update
2016/1/12
Call for Reservation at Live & Restaurant Bar MEMORY LANE
052-971-3577