Hot nightclub "the emporium "in nagoya
Would you like to step outside your usual world for a while? Let this shower of sound and light usher you into a different dimension for your party. The whole wall is turned into a star-filled night sky, made by the latest fibre-optic technology which you can enjoy from the sofas. We've produced a luxurious party space brimming with the feeling of a London club! From the very latest EDM to old favourites that get everybody dancing the music offered here is bound to appeal to the sophisticated clientèle that "Empori" is known for. How about going out in style for once!
You might also consider a private party or club event on one of our days off, or outside our usual opening hours. We can accommodate 50-100 people seated, or 70-300 people buffet style, from 4000 yen per person.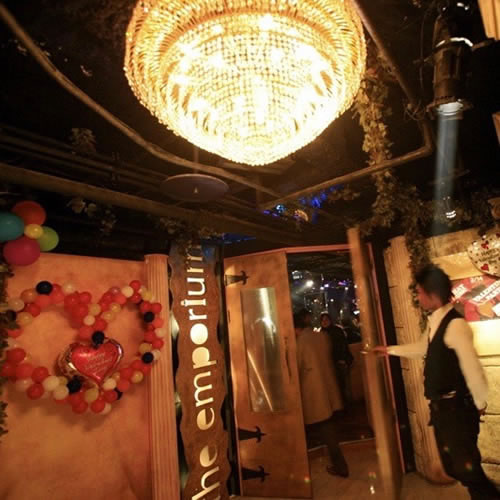 A Sample of Menu Items and Prices
*Tax included
Go to Google Maps and Get Directions
Station & Directions
subway Sakae Stn. 5 min
Meitetsu Sakaemachi Stn. 5 min
subway Fushimi Stn. 7 min
From Sakae subway station go along Hirokoji Street towards Nagoya Station (west). Turn left at Sakae Tokyu Inn and go south. At the second block, we're on the 9th floor in the building on the right.
the emporium
Address
9F PIVOT LION Bldg. 3-10-14 Sakae, Naka-ku, Nagoya 460-0008
TEL
052-269-1731
Station & Directions

subway Sakae Stn. 5 min
Meitetsu Sakaemachi Stn. 5 min
subway Fushimi Stn. 7 min

From Sakae subway station go along Hirokoji Street towards Nagoya Station (west). Turn left at Sakae Tokyu Inn and go south. At the second block, we're on the 9th floor in the building on the right.

Holidays
Mondays & Tuesdays
Open if the next day is a public holiday, or for private bookings.
Business Hours
8:00pm-5:00am
Budget
2,000-3,000yen
Seats
Total 100 counter 0, table 100, zashiki 0
Seating Types
Table, Sofa, VIP Room
Smoking Policy
Smoking permitted
Reservation
Available
Party Capacity
Up to 300 people Standing/ Private Party Accepted
Parking Space
N/A
Credit Card
Accepted
English Service
Staff/Yes Menu/Yes
日本語ページ
the emporiumの日本語ページはこちら
Last update
2016/10/13
Call for Reservation at the emporium
052-269-1731