Selamat datang! Welcome to Nagoya's spiritual healing space, Bulan Bali!
Listen to the soothing gamelan music flowing through the room, enjoy the dozens of exotic objects scattered around and chat with the cheerful and friendly Indonesian staff. You'll really feel as if you are at a resort restaurant on Bali, the island of the gods!
We're open every evening until 4:00am. Apart from our Indonesian food, feel free to drop in any time just for a tropical cocktail or other drink.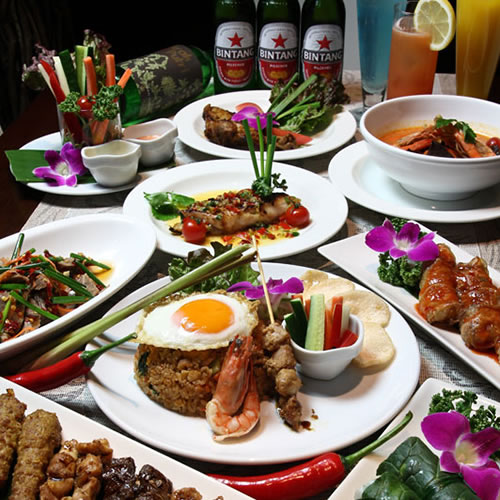 A Sample of Menu Items and Prices
*Tax not included
Go to Google Maps and Get Directions
Station & Directions
subway Shinsakae-machi Stn. 3 min
subway Takaoka Stn. 5 min
subway Sakae Stn. 8 min
Meitetsu Sakaemachi Stn. 8 min
We're a three minute walk from Shinsakae Machi subway station. Go along the north side of Hirokoji Street, 100m west (towards Sakae) from gHirokoji Aoih intersection, or 200m east (towards Shinsakae) from gToshinchoh intersection.
Cafe Dining BULAN BALI
Address
2-21 Higashi-sakura, Naka-ku, Nagoya 460-0005
TEL
052-936-0166
Station & Directions

subway Shinsakae-machi Stn. 3 min
subway Takaoka Stn. 5 min
subway Sakae Stn. 8 min
Meitetsu Sakaemachi Stn. 8 min

We're a three minute walk from Shinsakae Machi subway station. Go along the north side of Hirokoji Street, 100m west (towards Sakae) from gHirokoji Aoih intersection, or 200m east (towards Shinsakae) from gToshinchoh intersection.

Holidays
None
Business Hours
Lunch 11:30am-2:00am
Dinner 6:00pm-4:00am(Mon.-Sat.)
Dinner 6:00pm-0:00am(Sun & Nat. Holiday)
Budget
4,000-5,000yen
Seats
Total 54 counter 6, table 48, zashiki 0
Seating Types
Counter, Table, Party Room
Smoking Policy
Smoking permitted
Reservation
Available
Party Capacity
Up to 70 people Standing/ Private Party Accepted
Parking Space
N/A
Credit Card
Accepted
English Service
Staff/Yes Menu/Yes
Official Website
日本語ページ
Cafe Dining BULAN BALIの日本語ページはこちら
Last update
2016/1/12
Call for Reservation at Cafe Dining BULAN BALI
052-936-0166